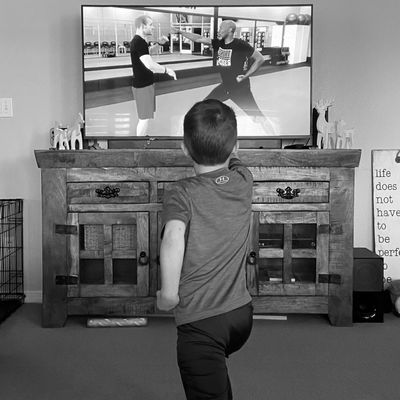 Train Anywhere, Anytime – Stay Connected, Stay Focused, Stay Healthy.
We know it's not always easy to attend classes and fit training into an already busy schedule for you or your family. Our flexible Hybrid training program provides parents and students the ability to train up to SIX times per week utilizing both In Person (at our facility) and Live Virtual Training (via ZOOM) classes!
All Classes are grouped by age instead of rank:
Tiger-Cubs – Ages 4 – 6
Juniors – Ages 7 – 11
Teens – Ages 12 – 15
Adults – Ages 16 and up
In Person Training
There's nothing that can replace working out with a team. Our In Person training sessions are designed to provide an exciting and fun workout while working in a small group of like minded peers. Our goal is that every session will leave the student SWEATING, SMILING, & LEARNING!
Athletes can pick their preferred time slots each week from our flexible schedule using our simple online scheduling tool. (See below for current class schedule)
** Note – Due to the current state and local social distancing requirements, Student Athletes currently may schedule TWO in person sessions per week per athlete. This number will change as state and local requirements allow. We highly recommend attending Live Virtual Training 1 to 3 times in addition to your In Person class attendance.
Virtual Academy – LIVE online training
We also know it's not always easy to attend classes in person – that's why offer LIVE VRITUAL TRAINING to all our athletes up to 6 times per week in our virtual training classrooms. Athletes participate in live training sessions, and have access to an exclusive training library to guide their practice as they level up! Our live online classes are exclusively for Tiger-Rock Lone Tree Athletes and families – these are not open to the general public.
LIVE VIRTUAL TRAINING
Attend as many classes per week as you like for your specific age group:
Tiger-Cubs – Ages 4 – 6
Juniors – Ages 7 – 11
Teens – Ages 12 – 15
Adults – Ages 16 and up

SCHEDULED IN PERSON TRAINING
Attend up to TWO classes per week per athlete by scheduling your time slot on our class registration page.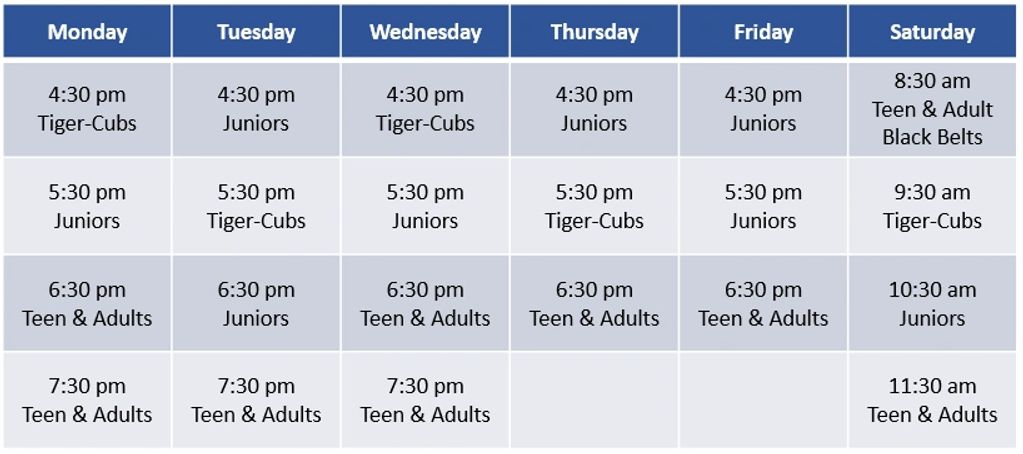 Important Scheduling Note:
Schedule is subject to change as local stay-at-home / safer-at-home and social distancing requirements change.